This article is a high-level template for business leaders wanting to benefit from mobile apps and technology to acquire customers or transform how they work. In other words, people who are looking to implement some degree of digital transformation and need a mobile strategy to support it.
How do I use this blueprint?
This blueprint will help you identify the beginnings of a mobile strategy. It's going to be rough and ready, but if you don't have one then it will be immediately valuable and help you ask the right questions.
To get cracking, simply work through the questions below within 20 minutes or so. Grab a group to do this with – your CEO, sales director, operational director, or other department heads. Anyone who might have ideas around where technology could support you in your mission.
If you get stuck, the important thing is to just keep going to the end, and then plan to come back to it a week later. As you go, set action points to resolve any unknowns or questions that come up during the session. You can do those and bring resolved questions and unknowns to the next session.
What is the process?
The diagram below shows the key things you need to do:
Restate business goals
It's important you know where the business is heading so that you can ensure your mobile strategy is pushing for that.


Create strategy headlines
Informed guesses at how digital and mobile apps will push you toward those goals.


Evaluate and convert into a big-picture roadmap
Work out the big pieces you could implement to achieve those strategy headlines.
This diagram shows how it all ties together.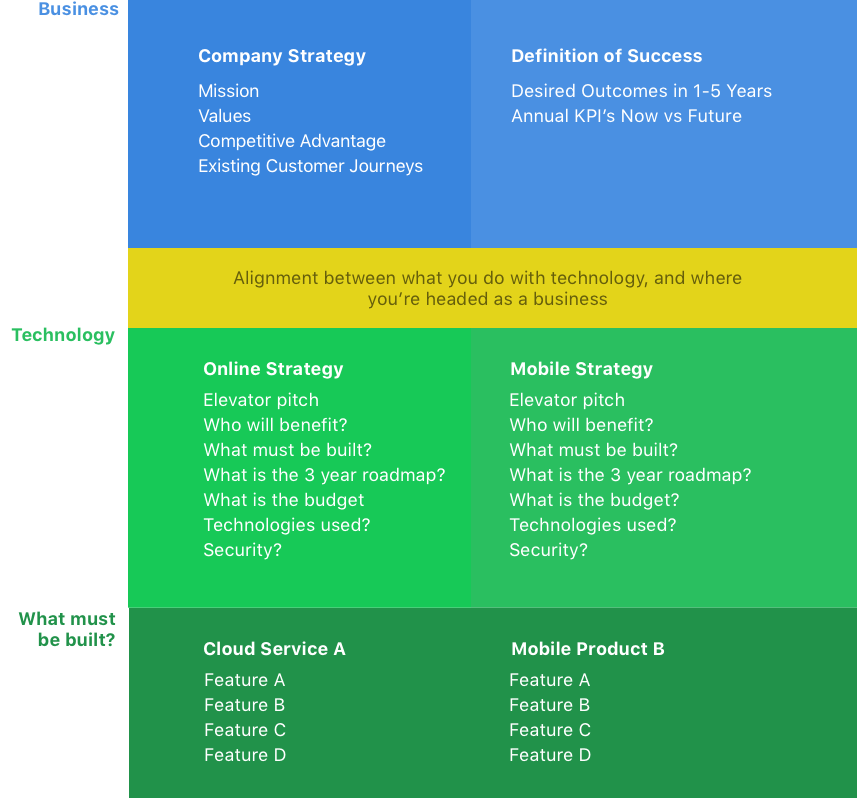 Download the template
The template includes an example, and also a blank version for your use.
You can download it here.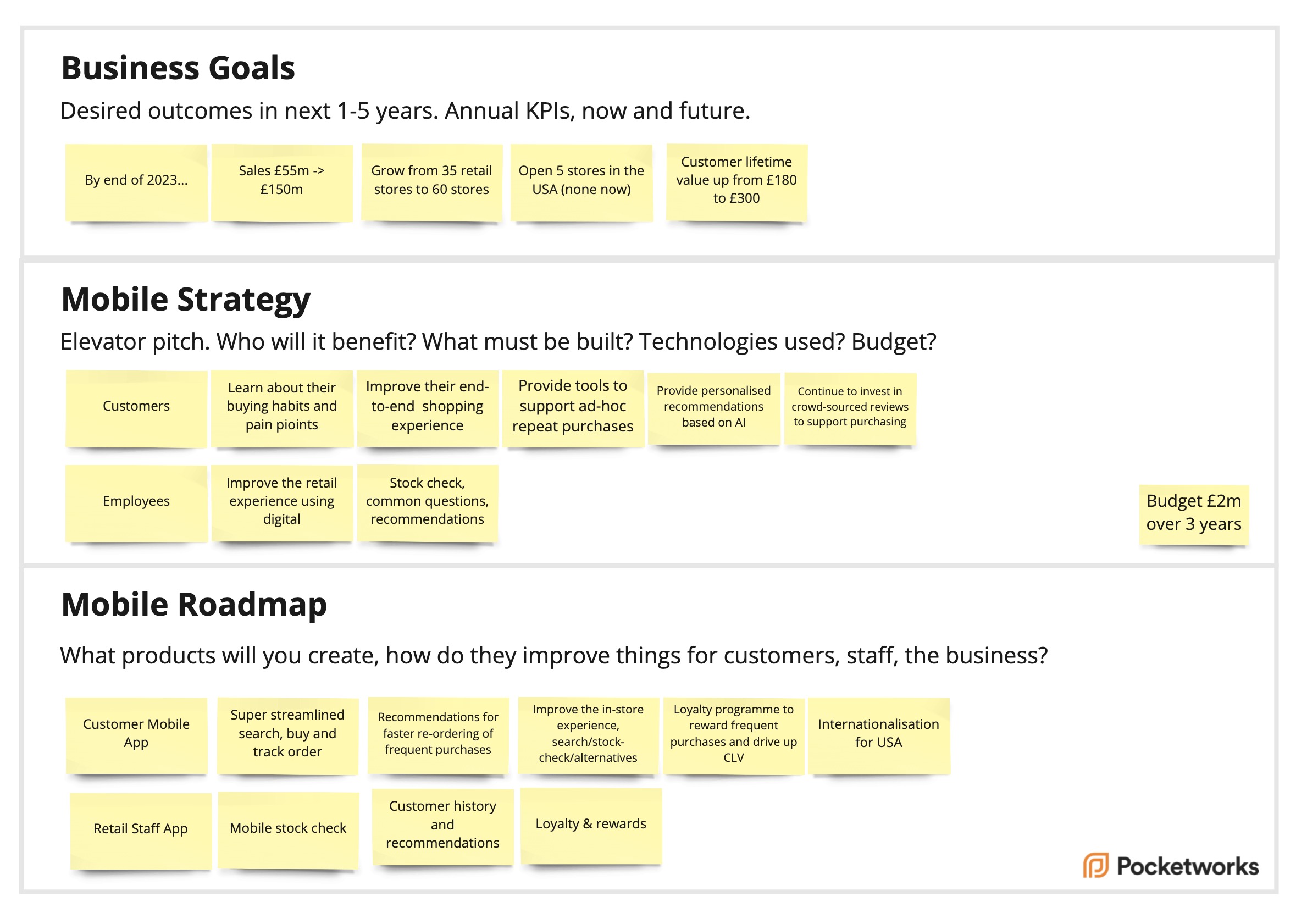 1. Restate your business goals
This might sound obvious, but apps and digital technology are to help you achieve your mission.
As you work on your mobile strategy, you'll need to make sure the strategy is pushing toward those goals business goals. I'd suggest considering the 2-3 year goals for now.
Here are some examples:
Improve the employee experience and become the best place to work
Grow sales to £20m
Become an educational authority in the products we sell
Start a training academy to nurture junior salespeople
So, list out some goals like the above, ones that are important to you over 3 years.
2. Create strategy headlines
Can you think of where you see technology improving your company in some way or another?
List one or more ways how digital tech or mobile apps might help these goals
Where are your biggest opportunities for automating parts of your business?
Where are your biggest threats to your industry?
What pain points are customers experiencing that you can help with?
Where is technology helping your competitors in your industry?
How do your customers use technology differently than a few years ago?
What are their new expectations?
Keep it high-level for now, and more about a benefit or theme than a solution.
Some examples:
Create a better employee experience and reduce the burden on HR.
Appeal to our customers who do everything on smartphones, make it easier for them to order our products on the move.
Get rid of our old digital catalogs and replace them with something cool and digital.
Etc…
This is a great starting point for a mobile strategy or digital strategy. If you don't have ideas, then you need to go and seek some out. I'll get to this in a separate post.
3. Tighten up your ideas into strategy headlines
Now that you have some rough-cut ideas, let's tighten them up a bit by creating some strategy headlines. This just means fleshing them out a touch and thinking more about the benefits. Again, you need to be disciplined to avoid trying to solve everything (there are always dozens of ways to use tech to solve a problem). Focus on the problems you want to solve.
For example:
Digitise the employee experience: We'll give employees digital tools so they can answer their questions, understand policies, receive payslips and book holidays. This will lead to reduced administration costs and increase employee education and happiness. See Digitising the employee experience for inspiration.
Streamline ordering for mobile customers: We'll make it much easier for our younger, more mobile customers to order from us on the move, leading to more orders and increased order sizes. See Streamlining B2b buying for inspiration.
Digitise our paper catalogues: We'll digitise our printed catalogues so our customers can find the product information they need more easily, and benefit from more engaging and rich content such as videos and animations. This will lead to higher engagement, increased stickiness, and more sales.
Etc..
So, if you make a list these are pretty good strategy headlines ready to prioritise.
4. Prioritise your list and make a simple roadmap
Take your list and prioritise it. Some of the items will have a bigger impact than others. An obvious way of prioritising what you do is to simply look at the ROI case. Then list them out in order with a rough timeline. You can normally make good progress on any strategic initiative in 3-6 months, so chop your initiatives up into 3-6 month blocks.
For example:
2018 Q1 – Q2
Streamline ordering for mobile customers (phase 1)


2018 Q3 – Q4
Digitise our paper catalogs (phase 1)


2019 Q1 – Q2
Digitise the employee experience (phase 1)


2019 Q1 – Q3
Streamline ordering for mobile customers (phase 2)


2020 Q1 – Q2
Digitise our paper catalogs (phase 2)
Sometimes you lean on your gut rather than hard data for ROI. This is fine, and don't worry if you don't have all the details. This is about setting your best guess in a strong direction. Your shining star for the future.
If this strategy is aligned with your goals, and you have some confidence in the direction you're heading, you won't have to change it much. Instead, you'll later focus your energies on how to do each phase right.
Great, what's next?
You have your goals, strategy headlines of how you might use technology to support those goals, and you've turned it into some kind of prioritised roadmap.
Next, you'll need to define the strategies and products that will realise this strategy. We'll cover that in a future article. If you want a more detailed version, here's the process we go through with clients that you can use for free.
Should you worry about costs at this point?
You won't need budgets to set your strategy. Once you've set your digital direction and prioritise, you then can think about what you can invest in each those, perhaps using the ROI case to guide the investment.
There are many ways to crack a nut, so it's very likely you can find a way to progress your strategy with small or huge budgets. For example, you might be able to increase mobile sales without building an app. Your mileage will vary depending on your budget, but any good advisor should help you find quick wins at the start of your project.
Wrapping up
If you do this, it will start getting you asking the right questions and thinking about technology as something that supports your mission and goals. It might surprise you, but many companies don't do this. So if you've got through it you've already given more consideration to your strategic adoption of technology than most.
Note: You can call on outside experts to help with this. If you don't have an app strategy partner, we'd be happy to help. We run workshops and advisory sessions to help businesses create a strategy for their business. Feel free to get in touch if you want some help. Good luck!