Like most app developers, we speak to a fair few startup founders wanting to launch a new app or extend their MVP. Planning a product is hard, and Pirate Metrics can provide value by helping you think about the important things.
What are Pirate Metrics?
Pirate Metrics are simply a bullet-point list of important things to consider about any digital product. An example might help.
Let's say you're a founder who's in the process of developing an app or digital product. You'll probably be pondering a few important things about your fledgling product:
How will I drive people to my product?
Will the product have a market fit? Will users "get it"?
How will the product make money?
How can we be sure people use the product repeatedly?
Will users tell other people about the product?
You might have intuitively considered some or all of these angles already? Well, Pirate Metrics is just a framework that reminds you to look at these important things. In essence, it's a checklist of useful things to think about when planning your product and later improving it.
Here's the actual list. This is sometimes called AARRR - hence "Pirate" metrics :)
Acquisition: How will I drive people to my product?
Activation: How do we know if a user "gets it"?
Revenue: How will the product make money?
Retention: How can we be sure people use the product repeatedly?
Referral: Will users tell other people about the product?
And a diagram that might help too.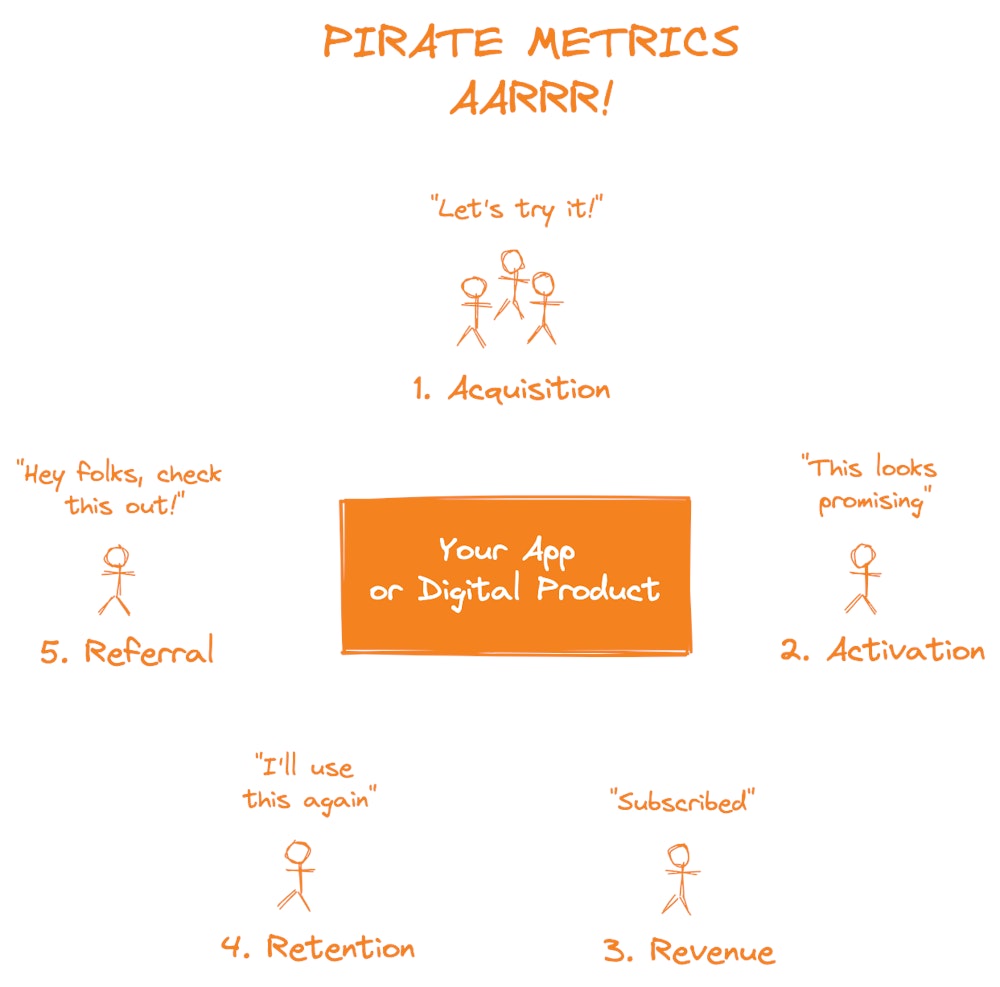 Simple eh? Read a little more about that list here.
When I first heard about Pirate Metrics five years ago, I naively dismissed it. I just didn't get why it was interesting. But a few years later I learned more about it, practised using it, and now find it a really useful tool.
Note, there are other frameworks too like Google's HEART that might also be worth considering.
Why are Pirate Metrics good?
So why is this framework good? Isn't it just a list of obvious things?
It may seem that way. The thing is, when you start thinking about your app, website or product from these perspectives, you'll find it really helps you think about the big picture.
You could try it now. Just pick any product you're using and ask yourself how they're achieving Acquisition, Activation, Revenue, Retention and Referral. It's a good way to unpick the strategy of your competitors.
Looking at the "Referral" perspective
To give a flavour of this, let's look at the 5th AARRR perspective - Referral.
Referral mechanisms are pretty fascinating. Referrals aren't just about friend invites, voucher codes and "share" buttons. They can be so much more. Seth Godin often talks about "sneeze worthy" products - ones that people are desperate to talk about.
For your own product, consider this... How can you be sure people will be motivated to talk about your product with other people? After all, this is what drives organic growth. Have you designed your product for this? Have you made it almost effortless to talk about and share?
I'm not talking about a simple social media share button. You see loads of apps that have "share on social media" buttons. But do they really give the user a compelling reason to share? For your product, are any elements people will naturally want to share?
Instagram achieved this because it allowed people to create pro-quality photos without having pro skills. People really wanted to share their creations with friends and family. The product is designed to spread by default. It's not a surprise Instagram had exponential growth when it launched.
George Berkowski also talks about this in his book "How to build a billion-dollar app". They really focused on generating referrals for the Hailo taxi app. They wanted everyone who booked a cab to tell their friends about it, and so carefully crafted a referrals program that would encourage that customer behaviour. And it worked.
Can you do something similar for your product?
How can you use Pirate Metrics?
Each perspective in pirate metrics is important. So how do you use them?
I personally use Pirate Metrics as a reminder to ask relevant questions. It might be during the business planning phase, or the product design phase or the growth phase.
I also find it useful when talking to a founder or CEO about their app ideas during our sales process; it helps me get a grip on the business plan behind an app.
If you're at the planning and design phase, try using the list for reference to make sure you consider all the important things. It's a lens through which to focus your thinking. You will end up asking yourself questions such as:
Acquisition
Is there any onboarding that reminds people why the app is useful? We know this helps increase the number of people who stick with it.
Have we designed an app store landing page that will have a high conversion rate?
Are we doing app store optimisation to help us attract more customers through organic app store search?
Do we expect people to find us from the web? Is there a deep-linking story here?
Activation
Does our design allow people to "get it" quickly? We don't want them to bounce away before they know what the app is about.
What is the point where we expect people to have that "ah-ha" moment? Can we record when that happens so we can measure it?
Have we designed our product to give some kind of instant gratification, where people get value quickly?
Revenue
What payments options are there for an app?
Can we use Apple Pay and Google Pay, or is this going to need Credit Cards with Stripe or similar?
Or is this a subscription model, or in-app purchases?
Have we considered freemium?
Have we designed screens to convert our non-paying users into paying ones?
Retention
Have we got the analytics in place so we can measure retention?
If people leave the app, do we where or why they are bailing out?
Do we have any push notification campaigns or email campaigns to bring them back?
Referral
What do we expect people to share in this app?
Have we designed any features for their "share appeal"?
Should we do social media monitoring to share how much people talk about us?
Should we reward people for sharing the product?
And so on...
If you already have a product out there, Pirate Metrics are useful too. You want to be sure you're measuring AARRR and looking for ways to improve. Pirate Metrics are a great starting point to ask "how is this product performing against all these important criteria?". Analytics and metrics are a big topic, but in a future post, I'll share what we've learned about capturing the important data and using it to optimise your app or digital product.
The key takeaway from all this is - think about how Acquisition, Activation, Revenue, Retention and Referral relate to your product. It's a reliable way to ask sensible questions about how your app is performing, or will perform. And you can use it to check if you've designed a product that can grow.
Hope this was useful!