Rather than predicting what's hot for 2020, I thought it would be good to look at things from a different angle. This is about the tech that is on the rise, but which hasn't quite entered the mainstream yet. Hopefully, you'll see something that could inspire your future roadmap. Something that might improve your customer experience or employee efficiency.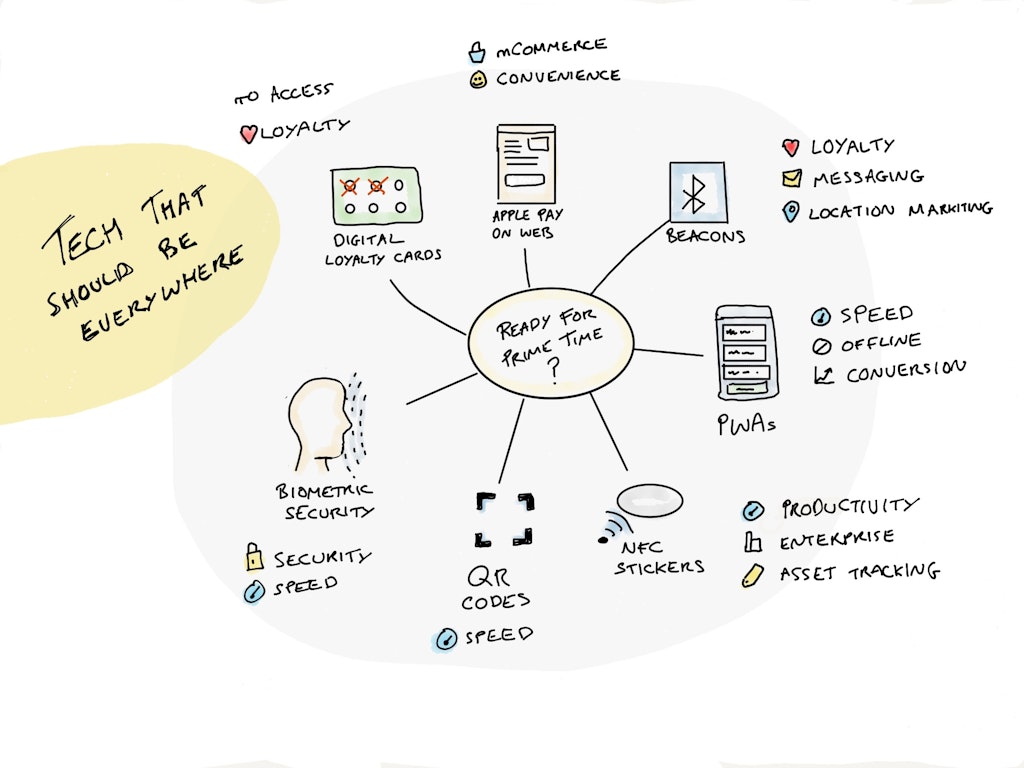 Beacons
Beacons are little gadgets that make it possible for an app to know when you're near something. Here's one fabricated use case that they would allow for.
Let's say you're walking toward the checkout at Asda. As you approach, the Asda app on your phone detects that you're near the checkout. So, it and automatically sends you a notification with a discount voucher. This handy reminder means you save some money and have an improved shopping experience, meaning you're more likely to come back and even tell your friends about it.
Beacons are a way to use location-sensitive triggers to drive loyalty. I think we should be seeing more retailers and hospitality businesses using beacons to create better customer experiences.
Apple Pay and Google Pay on websites
Paying for things on web pages is annoying when you have to enter card details. It's worse when you're on the move using your mobile phone. Apple Pay and Google Pay can make this a one-tap affair, which is much more convenient for customers.
Web-enabled mobile wallets are perfect for quick transactions like boarding passes, train tickets, cinema tickets and food orders. In my view, anyone who sells a ticket online should be using Apple Pay or Google Pay. Yes, I'm pointing a finger at you, Odeon Cinemas!
Apple Pay and Google Pay for apps
This is the same as above, but for apps. Customers should be able to place orders through an app without having to enter a credit card. Mobile wallets are quicker and more convenient for customers.
Digital Loyalty Cards and Key Cards
Why do coffee shops still give us paper stamp cards? Why do hotels still give out physical key cards? All this could be done through mobile wallets that are already on everyone's phone (Apple Wallet and Google Pay). Retailers and hotels need to start experimenting with these technologies.
Biometric scanning
This is basically an app scanning your face or fingerprint to allow access. The banks are using it because it's highly secure and much more convenient than entering a passcode. So why don't more app publishers use it? It's better for customers. There are no excuses 🙂
Web Notifications
Ever received a web push notification on your Android device? No? We haven't either. We have no idea why companies aren't using web push more. It means you can send notifications to people who visit your website whilst they're on the move.
Progressive Web Apps
PWAs are basically web sites that give a more app-like experience. You can receive push notifications. They can work offline. And they can be added to your home screen. PWA's have higher retention and conversion rates than regular websites. Starbucks and Uber are experimenting with them. Should more businesses be doing this to improve their mobile user experience?
QR Codes
QR codes are great because, in many situations, they stop people having to type. Typing is annoying, especially whilst you're on a phone. As an example, did you know you can create a QR code that allows guests to connect to your WiFi without typing anything? They just scan it and they are instantly on your WiFi network. Cool for coffee shops, huh?
Now that most smartphones detect QR codes just by waving the phone camera at them, consumer's are catching on slowly. It's up to you, the business owner, to put more QR codes out there to save people time.
NFC Tags & Stickers
When was the last time you scanned an NFC sticker or tag with your phone? Probably never. Like QR codes, these are great tools for stopping people having to type. They're very relevant in a workforce/enterprise setting. You can use them for audits, asset management or fleet.
Pause and Resume
People using apps get interrupted. So they might be typing a LinkedIn post on their phone and then get pulled away. When they finally return to the app to finish what they were doing, the app should let them resume exactly from where they were before they were interrupted. Many don't do this and annoyingly make you start again. We hate having to redo work we've already done. There is specific software tech that solves this problem. Every app publisher should use it.