Mobile apps are playing a huge part in understanding and containing the COVID-19 pandemic. Here's a list of ones we've heard about.
UPDATE - 11th April: Apple and Google partner up to support COVID-19 contact tracing at operating system level. The first launch in May will give official healthcare app developers access to API's to exchange data. Following on from that, they'll introduce capabilities as part of their operating systems.
UPDATE - 10th April: Adoption of COVID-19 mobile apps is considered essential. Therefore, an international team lead by MIT is working on a standard for contact tracing apps to protect privacy, which will allow for safe use of contact tracing apps globally. It will be interesting to see how quickly the apps below can conform to this standard.
Note: We'll update this list over time and push out announcements on our LinkedIn and Twitter accounts.
Trace Together
Singapore has created this app and it's helped them contain their COVID-19 outbreak. This app alerts people when they have been in the vicinity of people infected with COVID-19, promoting them to get tested. The awesome team behind TraceTogether are open sourcing the technology to help other countries benefit from the progress they've made. Learn more about that at their BlueTrace Manifesto. Unfortunatley the app can't be used directly in the UK or USA because of our stricter privacy laws.
UK Government COVID-19 App
The UK government is developing an app that will help reduce the spread of COVID-19. This is expected to be launched within weeks, or just as we are comign out of lock-down. It will alert people when they have been within 100m of any other app users who have reported having COVID-19. Like TraceTogether, it will rely on Blueooth technology to figure out if people are in the same vicinity, and therefore if there is a risk of infection.
COVID Symptom Tracker
This app from ZOE Global Ltd is backed by Kings College London and available now. It doesn't use Bluetooth, and instead is more like a research tool that asks poeple to spend a minute a day recording their symptoms. They also have a great online map showing number of users and recorded COVID-19 cases.
For example, there are 19,000 contributors in Leeds using the app, and the data shows that 4.38% of them have reported symptoms.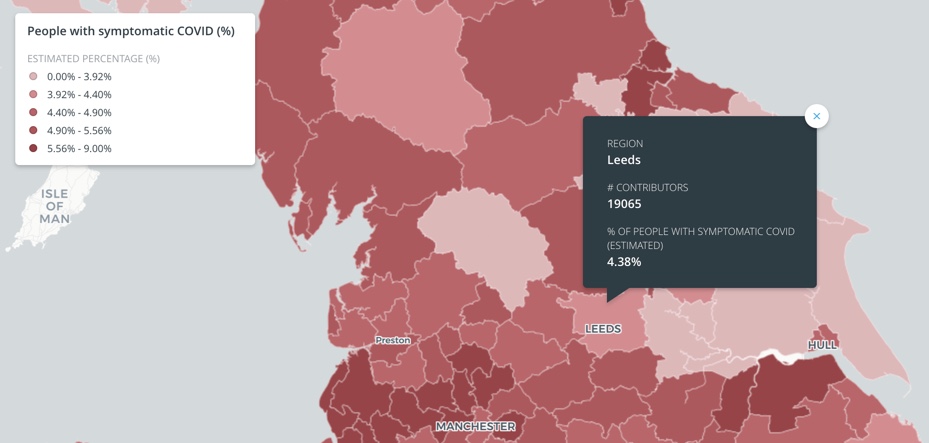 PEPP-PT
A group of 130 european researchers are developing tech to help countries curb the spread of COVID-19. Like the UK app, their solution uses bluetooth to help people know if they have been in proximity of someone with COVID-19. Learn more at https://www.pepp-pt.org/.
ProteGO from Poland
Poland's Digital Minister Marek Zagorski has announced that Poland is working on an app that will help curb the spread of COVID-19. As with the apps above, it will use Bluetooth to detect nearby app users who have COVID-19. More information here.
COVID Trace App, USA
COVID Trace was built by two app developers in Seattle. Like other apps, it uses Bluetooth to alert people who have been in proximity to each other. The app is ready for launch, but Apple aren't giving it the go-ahead. They only want governments, medical companies and universitites to launch apps of this nature.
Apple's Screening Tool
Apple have developed a screening tool giving information and guidence to people about COVID-19. Unlike the solutions above, this isn't a traceing app - it's more focused on simply guiding people on what to do. Note: Not available in the UK.
Did we miss one?
Know of any more apps? Please email hello@pocketworks.co.uk or let us know on Twitter.