Have you checked your page load speeds recently? You should, because it can have a high impact on the success of your website. Especially on mobile. Here's why.
People will abandon your site out of frustration
Research has shown that 53% of mobile users abandon websites if it takes longer than 3 seconds to load.
Your site won't rank in search engines
To make matters worse, Google is also penalising slow sights by not ranking them high in search results. If you were Google, would you want to lead your customers to sites that will frustrate them? Nope.
In 2020, Google will warn people away from your site
It gets even worse. Not only do slow sites get lower Google rankings, but Google is also about to introduce something worse. If your website is slow, soon Google will start warning people when they click on your site. So the first thing visitors learn of your brand is "This company is going to give you a frustrating experience". Not good.
Summary
Given all that, I'll summarise the downsides of a slow site:
You'll generate less traffic due to bad search ranking
Customers who do click will be warned that your site is slow, giving them an option to change their minds about visiting your site
53%+ of customers who do visit will abandon your site out of frustration
This means that your monthly investment in advertising, PR and other campaigns are going to be less much effective. If you're spending on these kinds of things, you could be wasting over 50% of that investment.
So, our advice to businesses is - sort out your page speed!
How we improved our own site
Our Pocketworks site was really struggling with page speed. We were on Wordpress and had a lot of plugins combined with a heavy theme. All this meant a slow user experience.
Because of this, our mobile page speed score was a lowly 4% and our desktop page speed was a pretty terrible 36%.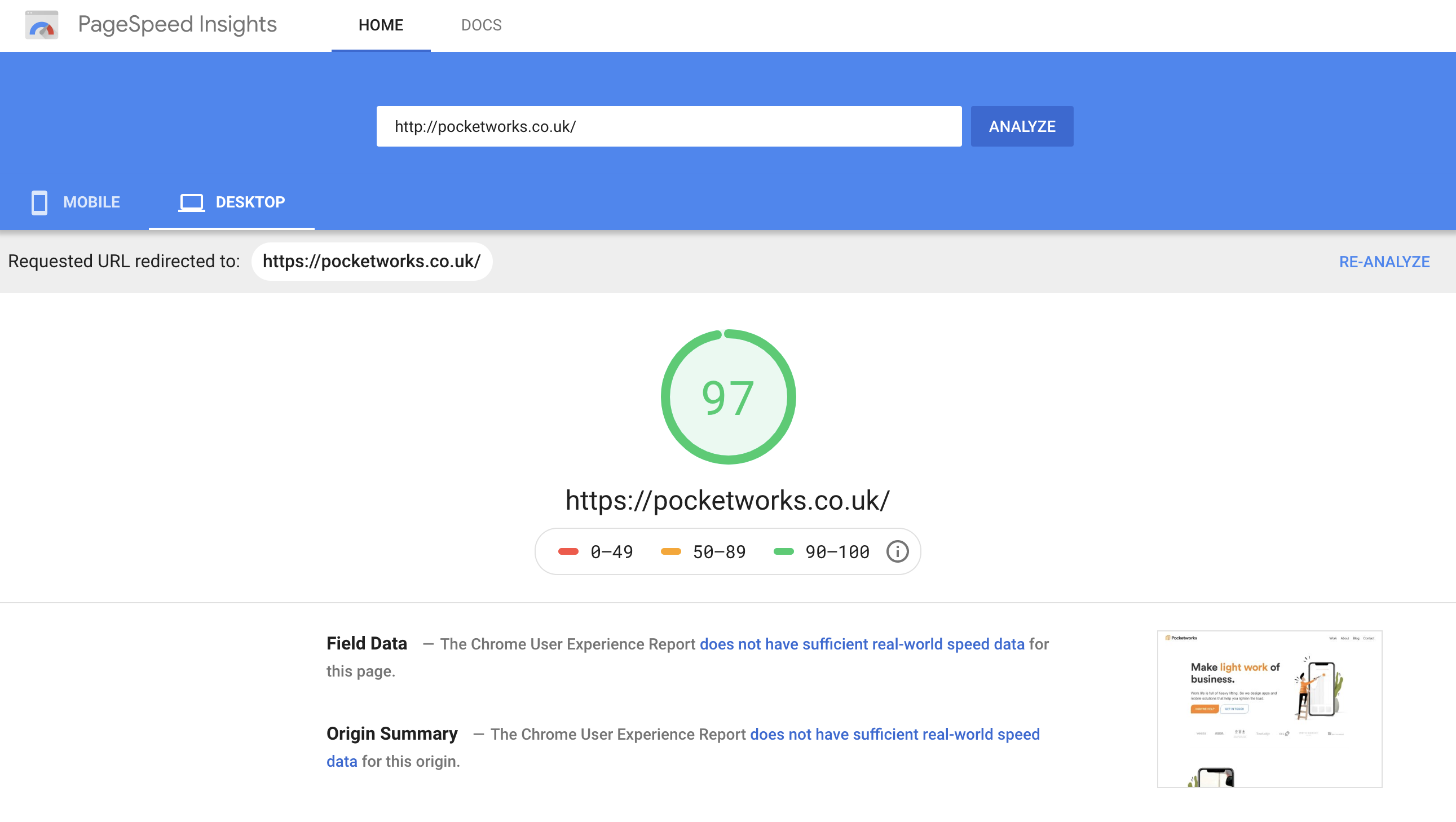 So, we bit the bullet and rebuilt the site in a much lighter way using a headless CMS, ReactJS and the Gatsby static site generator. Check back to hear more about that in the future. The result is that our mobile page speed is at 76% and our desktop page speed is about 97%. There is still room for improvement, but overall a great result.