If you're a digital leader or specialist, you might have heard of Government Digital Services? If so, you'll know they are very highly respected in the human-centered design and agile communities.
Becuase they serve millions of people of all ages and abilities, they've had to get very good at creating digital products and services. They have offices here in Leeds and it's we enjoyed attending events about digital product development and agility.
So, I'm really please that we were accepted onto the Crown Commercial Service's new Digital Outcomes and Specialists 5 (DOS5) Framework in January. The DOS framework is an agreement designed by CCS and Government Digital Service (GDS) to help the public sector buy, design, build and deliver digital outcomes by finding appropriate and specialist private-sector companies to deliver agile software development.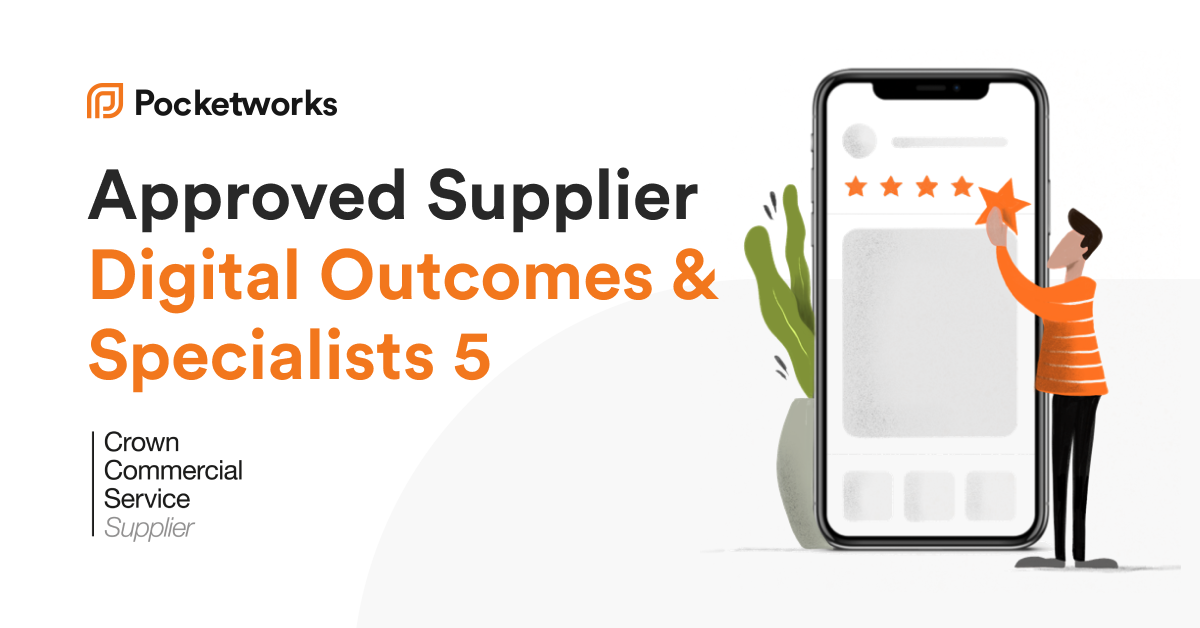 Anna Scandella, our Head of UX sums it up nicely:
"As a UX Designer, I'm striving to create ethical and sustainable products that are easy and delightful to use for everyone. Working with Government Digital Services is going to be an amazing opportunity to make a real impact. I'm looking forward to working with the public sector on design projects by offering a physical and virtual space to conduct user research."
As a pre-approved Digital Specialists supplier, government organisations will find it easier to procure bespoke mobile digital transformation services through the new framework. Pocketworks will deliver Digital Outcomes by providing teams to research, test, design, build, release, iterate and support a service or programme. Mobile digital specialists can deliver a specific outcome with defined deliverables on a service, programme, or project for any public sector organisation.
From 20 January 2021, government organisations will be able to buy Pocketworks's services on the following lots:
LOT 1: Digital Outcomes: to build teams and support a digital service.
LOT 2: Digital Specialists: to provide individual specialists to work on a service or programme.
LOT 3: User Research Studio: to provide an environment to conduct UX research sessions.
LOT 4: User Research Participants: to source people from a specific user group to test a service.