"Our users have a challenging lifestyle, often on the move. We wanted to develop a valuable and convenient tool for them to benefit from every day, and it was vital we partnered with a company that got this vision."

Mike Adamson, Head of Systems & Analysis, PGMOL
Key Achievements
Mobile apps developed on Android and iOS
Used by over 500 football referees
Referees accessed average of 23 clips per game per week
Used 4.5 times per game per referee
Increased usage of of match analysis videos
Secure & PEN tested - protecting access £5bn of content
Bring-your-own-device and enterprise MDM distribution
Summary
Pocketworks has built a unique app to help professional referees both on and off the pitch for Professional Game Match Officials (PGMOL), the group which provides referees across Premier League, English Football League (EFL) and Football Association (FA) competitions.
The world-class app gives referees instant, on-demand access to videos of current and past match clips, including decisions, incidents, and set-pieces to help with pre-match preparation and post-match review.
"We were scouting for leading expertise and skills, as well as passion for what we wanted to achieve, and we found that in Pocketworks."

Mike Adamson, Head of Systems & Analysis, PGMOL
The Challenge
The PGMOL referees are advised of the next match they will be officiating each Monday. They use the time between then and kick-off to research and view historical incidents for the teams taking part in their next game.
Due to the geographical nature of their job, referees are constantly on the move, travelling to their dedicated Matchdays. The existing MOAS Match Centre is not responsive on mobile, making it difficult to view the vital content required for referees to prepare diligently for upcoming matches.
The Work
Our solution was to work closely with the MOAS development team to create bespoke APIs so that we could access the core system functionality and the video library. This allowed us to produce a native app for both iOS and Android, allowing referees to utilise the following the features:
Biometric login for fast and secure access to content
Encrypted video files to protect company property
View a tailored set of video clips for both teams, to aid peak-performance for referees
Bulk or singular download clips for offline viewing
Search the entire MOAS database by keywords such as a specific team, player or incident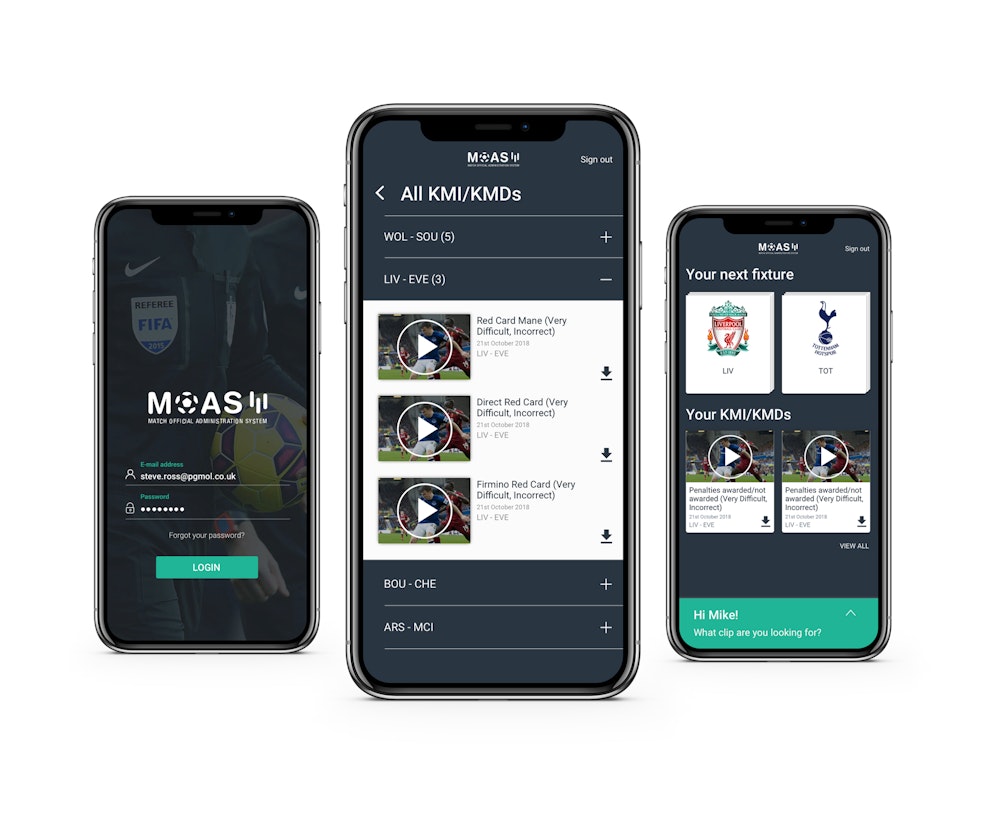 The Results
Apps successfully used by over 500 referees
Significant increase in video usage
"The project ran smoothly, the teams collaborated every step of the way and the final app, used by more than 500 match officials and staff across all UK professional leagues, is testament to this."

Mike Adamson, Head of Systems & Analysis, PGMOL